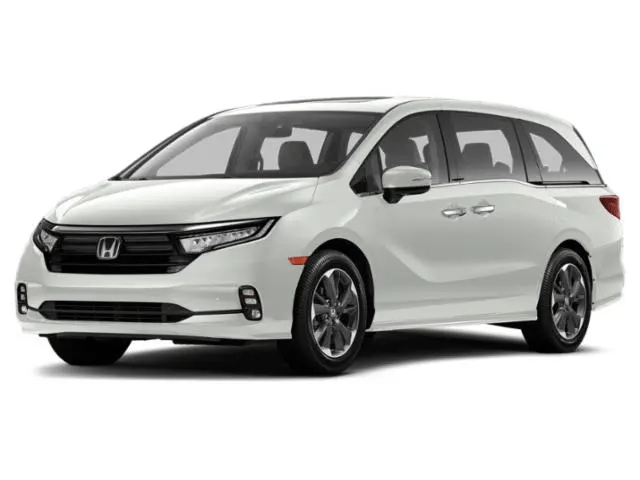 Our sales team at Mel Rapton Honda loves all the conveniences the Odyssey provides families. If ever there was a car that made trips across town, to the soccer field, or the drive to Grandma's house easier, it's this one.
With enough cargo space for everything you need to take along, an interior roomy enough for all the people who need to go, the latest and greatest technology, and safety features that give even the most cautious drivers added assurances, the Odyssey is worth a trip to the dealership.
Interior
Nobody has to sit tightly crammed together to get where you need to go. There is plenty of room for eight with the Odyssey, without elbows and knees getting knocked along the way! The second-row seat allows mobility for the smallest among us who may need to be a little closer to the front. Plus, the Magic Seat provides easy access to the rear of the vehicle, too. It's so easy to maneuver that the backseat crew doesn't have to wait for someone to let them out anymore!
An ample cargo area means you can pack whatever you need to take along for the trip without worrying about making tough decisions on what to leave behind. The 60/40 split third-row Magic Seat stows flat into the floor, which means the worry about tipping over is minimized. The bag hooks installed on the back of the Magic Seat provide extra stability for those sliding grocery bags, too. Additional cargo bins are designed to fit into the well behind the rear seats, providing extra organization and accommodation for all those smaller items like gloves, balls, helmets, and water bottles that usually roll around on the floor!
Does your vehicle's interior take a beating from heavy car seats and the occasional juice or Goldfish cracker spill? Ask about the available second-and third-row seat covers that offer sleek protection and help keep your original upholstery in excellent condition. These are every grown-up's dream!
Technology
We have to be able to stay connected whether we want to or not. The Odyssey has all the pieces you need to keep in touch while you're on the road. Apple CarPlay and Android Auto integration mean that you can access all your favorite podcasts, playlists, and contacts without taking your eyes off the road ahead.
Put all your passengers at ease by telling them that wireless streaming capabilities mean your Odyssey turns into a Wi-Fi hotspot, which allows for continued streaming and connectivity for all - no matter how far you roam.
Love those weekend trips up north? Getting a hankering for some skiing? For those who travel to lands of ice and snow, Snow Mode recalibrates the traction-control system to allow for a little extra help in icy, snowy conditions.
Safety Features
Honda has always had your safety as our top priority. The Honda Sensing Suite is a series of lifesaving driver-assist technologies that are standard on most makes and models. There are several features within the suite, so be sure to ask our sales team member which of the features are standard on the vehicle you're most interested in. Some of those features include:
Adaptive Cruise Control with Low-Speed Follow. You don't have to be frustrated with continuous stop-and-go with this system. All you need to do is set your preferred cruising speed and the distance you'd like to keep between your vehicle and the traffic ahead. Then we do the rest!
Lane Keeping Assist System. Long drives are made that much easier with this system, which helps adjust your steering wheel in the most subtle ways to help keep you centered in your lane.
Road Departure Mitigation System. Should you veer out of your detected lane without signaling, this system provides steering assistance to gently get you back into your lane. If necessary, it applies the brakes to keep you from running off the road.
Collision Mitigation Braking System. If the system determines a frontal collision is imminent, the system applies the brakes to help mitigate damage or avoid a crash in its entirety.
These are just a sampling of the incredible safety systems in place within your Odyssey. With a reputation for roadway safety, Honda invests in technology and innovation and then engineers a way to make it available to you. Be sure to ask a sales team member to explain all the features available to you.
About Us
Mel Rapton Honda on Fulton Avenue has served our friends and neighbors in Sacramento for decades. We know what our customers anticipate because we have so much in common. Our children go to the same schools and play on the same ball teams. We probably shop at the same grocery stores or enjoy the same vacation spots.
We treat you like we would want to be treated. You won't get hassled here. We respect your time and investment and want to be sure you get the answers you need to make the best decision for yourself and your family.
Come check out all the reasons the Odyssey should be on everyone's test-drive list. We know you'll be impressed by what you find.